ROOFTOP BRIDGES-CROSSOVER BRIDGES-PIPELINE CROSSOVER BRIDGES
ROOFTOP CROSSOVER BRIDGES-PIPELINE BRIDGES provide safe walkways over a variety of obstacles such as Electric Cables, Conveyors, Equipment,Water Channels, Drains, Machines, Pipes and Pipelines. Crossover Bridges are available in Stainless Steel, Steel or Aluminum.

ROOFTOP CROSSOVER BRIDGES-PIPELINE BRIDGES 250-500-750-1000 Kg LOAD RATING. 3rd Part testing and Certification.
ROOFTOP CROSSOVER BRIDGES-PIPELINE BRIDGES
50° climb angle, with 8″ step rise.
Dia 42mm Pipe Handrals, construction from ASTM A-36 Steel
Stair sections have 600 mm wide by 100 mm deep steps.
Top platform includes a 75mm high toe board on each side.
Legs have floor mounting plate with 16 mm diameter hole.
Serrated, Punched or Diamond Plate steps.
Ships un-assembled.
Powder coat finish is standard on steel models. Aluminum is a brightened, uniform finish.
Crossover Bridges meet applicable OSHA and ANSI standards.
Customization to suit site / shop floor conditions.
MULTIPLE TREAD OPTIONS
Bakjam Fabrication offers a variety of tread types to suit your needs. We manufacture our own custom tread material.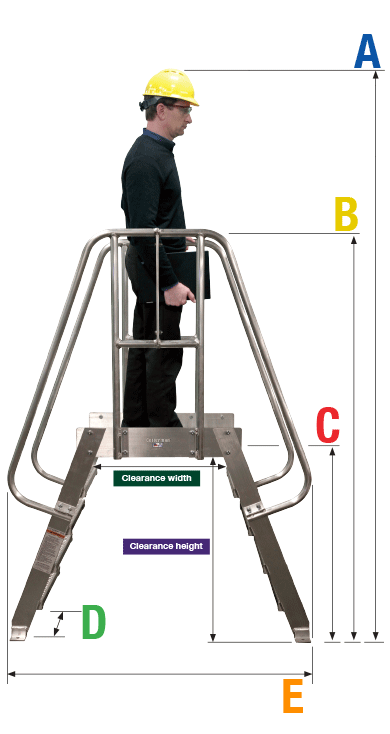 A: STANDING HEIGHT
The approximate height that a person would stand while on the bridge. You will want to be sure that the user can stand comfortably on the platform without obstruction. We calculate this at 1.5 meters, but this can be customized.
B: OVERALL HEIGHT
You want to be sure that your ladder will not be too tall to fit into your workspace. This includes being able to fit through any doors that you may need to move it through, or under any ceilings or fixtures that you may have.
C: PLATFORM HEIGHT
is the measurement of the top step from the ground. It's important that this measurement is not too far above or below your desired working height.
D: BASE WIDTH
is also very important because as ladders get taller, the base width increases. It is important to be sure that the ladder will not be too wide for your workspace. We offer different tread widths to accommodate most work areas.
E: OVERALL LENGTH
is the measurement between the floor-mounting brackets. This is dependent upon the height of the bridge. The taller the bridge, the longer the overall length. Lower climb angles also increase overall length.
ROOFTOP CROSSOVER BRIDGES-PIPELINE BRIDGES Please contact our engineers for discussing your requirements.
whatsapp: 009715 632 8990
Cell: 058 101 6267
pirzada@bakjam.com
WWW.BAKJAM.COM
DUBAI-ABUDHABI-AL AIN-SHARJAH-AJMAN-RAK-FUJAIRAH-UAE-SAUDI ARABIA-KUWAIT-BAHRAIN-QATAR-DOHA-MUSCAT-OMAN-IRAQ-PLATFORMS-MACHINE PLATFORMS-LOADING PLATFORMS-CRANE LOADING PLATFORMS-EQUIPMENT PLATFORMS-ROOFTOP PLATFORMS-ROOFTOP STAIRS-ROOF TOP BRIDGE-ROOFTOP BRIDGES-ROOFTOP STEP OVER BRIDGES-STEP LADDERS-ROOFTOP LADDERS-STAIRCASE-STAIRCASES-CAT LADDERS-LADDER SUPPLIER-LADDER FABRICATORS-ROOFTOP STAIRS AND PLATFORMS-CHILLER TOWERS-CHILLER PLATFORMS-ROOFTOP STEEL STRUCTURES-ROOFTOP SOLAR FRAMES-ROOFTOP SOLAR STRUCTURES.