Heavy-Duty Cradle Carts
Pipe Carts Pipe Dollies Heavy-Duty Pipe Cradle Carts iv
RHINO BRAND Bar and Pipe Cradle Truck – 75 mm Channel Steel
Every contractor needs one to transport oversize raw materials.
All-welded, super heavy duty 75 mm channel steel construction.
Open cradle design for easy loading and unloading. Reduces back strain.
8" swivel casters, 12″ center wheels turn on a dime.
RHINO Mobile Bar Cradle Cart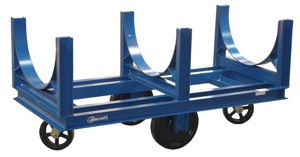 RHINO's new mobile bar cradle cart is designed to move heavy loads of pipe, bars, angles or tubes safely in and around the shop or job-site. Capable of carrying or storing up to 2000 kgs of material, the cart is made of heavy-duty, all-welded steel and features a large, open C-channel cradle that facilitates loading or unloading with a forklift or overhead crane.
The mobile bar cradle cart's roller-bearing wheels and casters are positioned in a diamond pattern, allowing it to turn and spin on its own radius for easy maneuvering.
RHINO is offering the mobile bar cradle cart in a 60 inch x 28 inch size, but custom sizes are also available. Like other RHINO products, the mobile bar cradle cart is manufactured in the UAE
RHINO is a leading designer, manufacturer and distributor of material handling equipment and lifting equipment serving the stone, concrete, drywall, roofing and other construction-related markets.
RHINO PRODUCTS IN THE UAE
CALL OR DROP US A LINE.
RHINOVEYORS WHOLESALE & EXPORTS CELL: 058 101 6267
RETAIL AND DISTRIBUTION OFFICE: 06 743 9209
WHATSAPP: 050 632 8990
EMAIL: info@bakjam.com
WEBSITE: www.rhinoveyors.com